The Harvey Public Schools, District 152, MTSS program is inclusive of all students and is designed to operate within the MTSS Framework which includes a Tiered System of Supports for both academics and social emotional needs. Each student is unique and therefore has unique learning needs which we address using graduated and time-specific supports to address those needs. Students fall into one of three Tiers and with each Tier movement those supports are increased to become more intensive as the need for intervention increases.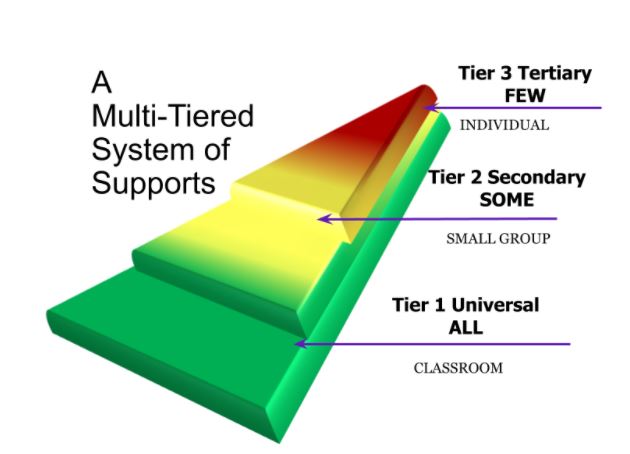 Vision
An inclusive educational and emotional support system that enhances and celebrates each unique gift in students while remaining fluid and flexible based on the needs of the student population and the individual needs of the student.
MTSS GOAL
The goal of the MTSS program is to ensure that we provide differentiated, research-based, and relevant instruction with fidelity that is matched to our student's specific needs. Our MTSS system of delivery is based upon a three-tiered structure of support whereby students receive support and interventions that increase or decrease by intensity based on their academic or social needs. This system is for all students as we recognize that each level of intervention is supported by the level that preceded. All of our decisions related to the implementation of the program are multi-data driven and made with the student's best interest in mind via the problem-solving process.
MTSS CORE VALUE STATEMENTS
We believe that:
Each and every student matters and has value.

Each student deserves an advocate outside of the home.

All students are gifted.

All students have the right to quality instruction at every level that will prepare them to be fully-functioning, stable, and informed global citizens.

All students have the right to effective and culturally relevant research-based interventions.

All students have the right to work through their traumas in a healthy way.

All staff members are gifted.

All staff must be supported according to their various roles so as to perform at the exemplary level.

The emotional intelligence of staff members must be considered and supported.

All stakeholders must have relevant and current resources and professional development related to the needs of students.

Student learning is a partnership between classroom teachers, interventionists, support staff, administrators, families, and the community.

All families are doing the best that they understand in supporting their students.

District 152 has engaged and caring staff dedicated to the process of growing talented and emotionally stable learners.

We are the well-constructed bridge over troubled waters.