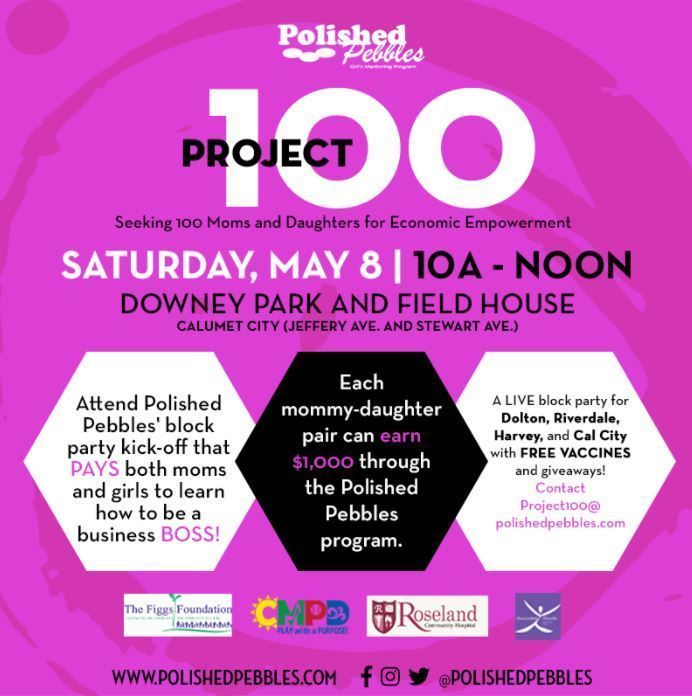 Free Mother-Daughter Program & Vaccination Site for South Suburbs
Polished Pebbles is recruiting 100 moms and daughters for our earn and learn mentoring program!
Polished Pebbles Girls Mentoring Program is expanding to the South Suburbs in Dolton, Riverdale, Harvey, and Cal City. We are looking for moms and daughters who want to earn and learn through our free economic empowerment and mentoring program. This program is being offered exclusively to South Suburban moms with daughters in 4th – 8th grades. They will have the opportunity to learn entrepreneurship skills and build their own business plans. Each mommy-daughter pair can earn up to $1,000 through this program.
Moms, daughters, and community members are invited to our kick-off event on Saturday, May 8, 2021 at 10 am – noon at Downey Park and Field House (Jeffery Ave and Stewart Ave. in Calumet City, IL). FREE VACCINES will be provided by Roseland Vaccine Program for ages 16+ with the support of Roseland Community Hospital and City Clerk Nyota T. Figgs of Calumet City. The event will include free self-care activities for moms and daughters, a live DJ, and opportunities to win free giveaways. Attendees will be able to meet with Polished Pebbles' leadership, local community leaders, and other successful Mommy & Me business owners who participated in Polished Pebbles' program last summer.
Share this opportunity with moms and daughters in the Southland area! To register for the free program and event and to learn more info, please email Project100@polishedpebbles.com.